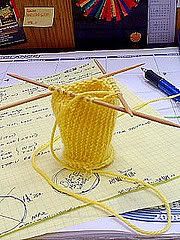 This is the small sized Jelly Baby I am currently working on.


This purple Jelly Baby is the large one.
As soon as I get this little guy done, I will have a picture up of all three sizes, and get the pattern written out in a somewhat coherant fashion.
I started making these guys after I managed to talk Mr. Gothric out of the Doctor Who scarf that he thought he wanted me to knit...until he remembered that he is always hot and never wears scarves anyway...and I would rather be boiled in my own pudding than knit ANYTHING over 12 feet long ever again.
I will be content with knitting Doctor Who's power food.
Happy Knitting, Folks.